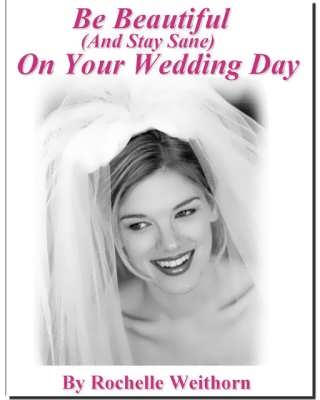 "The best wedding book
I've ever read!"
— Enid Zuckerman,
proprietor of
Canyon Ranch
Health Spa in
Tuscon, Arizona
---
"The Bride who takes Weithorn's philosophy
to heart is likely to
enjoy a happiness and beauty that marked
her Wedding Day
throughout her
marriage and her life"
— Michael Sanders, M.D.
---
Ms. Weithorn is available for TV and radio interviews as well as book signings.
Call 800-880-1308 for further details.

FOREWORD: Coming from a groom, a preface to a book for the bride seems strange. It should tell you just how interesting and well written a book has flowed from Ms. Weithorn's pen. I found the manuscript of this book on the coffee table in her studio while waiting for my bride-to-be. If it had been just a guide to putting on makeup and looking good, I would have put it down as quickly as I would have put down one of my wife's beauty magazines. But anyone who reads the table of contents will recognize that although this book is first and foremost an authoritative guide to navigating the wedding day with beauty and style and to avoiding pitfalls and getting great photos, it is also a guide to the habits of healthy living that are essential for enduring beauty and happiness.


Ms. Weithorn has made up celebrities, models, actors and countless brides, this experience is the wealth of this book. She is an accomplished expert on makeup and technique and, more importantly, on how the appropriate use of styling translates to the perfect photographs that every couple wants as memories of their wedding day. There are detailed directions on hair, makeup, and clothes with considerable thought to how it will all look to the camera. The job of planning a great wedding ultimately falls to the bride and the most valuable guidance Ms. Weithorn offers is on the thorough preparation necessary to make it all look effortless. Because she has seen it all before and knows every pitfall, she knows what to prepare for and what to bring to ensure that problems are avoided by dealing with them in advance.

Ms. Weithorn, aside from being a meticulous detail-oriented stylist, is a spiritually-attuned person. The fact that she works as a professional makeup and hair consultant puts her in a unique position to know that beauty is more than skin deep, and so are the recommendations in her book. Her holistic approach emphasizes that beauty is a state of mind as much as it is a quality of the body and that inner well-being is a light that radiates through the surface. Her advice on exercise, meditation, and the care of the self are truths that endure beyond the wedding day. The bride who takes her philosophy to heart is likely to enjoy the happiness and beauty that marked her wedding day throughout her marriage and her life.

My wife was fortunate enough to have Ms. Weithorn in the flesh at our wedding. She helped Debbie to look her best, assisted with the little emergencies that invariably arise, soothed nerves by knowing exactly what to do and with a wise word calmed anxieties at a stressful moment. My wife is enthusiastically thankful for Ms. Weithorn's presence. "Without her I never could have made it!" With this book, even brides who don't have the luxury of having Ms. Weithorn by their side can have the comfort of her wisdom and experience.

Michael Sanders, M. D.
New York City